Flügger History
Flügger was founded in 1783 in Hamburg and has existed in Denmark since 1890.

2020: Flügger launches an updated strategy: Going Green
In the summer of 2020, Flügger's group management launches the strategy, Going Green. The strategy consists of six focus areas that will create the basis for further growth and for Flügger to continue to invest in new value-creating initiatives for the benefit of customers, shareholders and employees alike. In addition, as part of the strategy, Flügger has defined both short and long-term sustainability goals.
2019/20: Sales DKK 1.895 million - EBIT DKK 83 million - 1.624 employees.
2017: Flügger launches a new strategy and new values
In the fall of 2017, Flügger's management launches the strategy Securing the Legacy and the values Team, Time and Trust. The focus is on creating profitable growth and efficiency - without compromising on the company's DNA and the quality, passion and creativity generated over generations. Already the first year after launching the strategy, the initiatives bear fruit, and the results are reflected in the bottom line, which is strengthened.
2016/17: Sales DKK 1.849 million – EBIT DKK 44 million – 1.533 employees.
2017/18: Sales DKK 1.818 million – EBIT DKK 58 million – 1.486 employees.
2018/19: Sales DKK 1.824 million - EBIT DKK 41 million - 1.481 employees.
2014: Flügger - New management
In spring 2014 a new CEO joined the company, and despite high ambitions, Flügger experienced a stagnant turnover and a strong decline in earnings primarily due to problems caused by a new IT-system in 2015. In August 2016 Jimmi Mortensen joined the company as CEO, and initiated a process of streamlining internal processes and consolidation of the store portfolio and assortment.
2014/15: Sales DKK 1.833 million – EBIT DKK 65 million – 1.575 employees.
2015/16: Sales DKK 1.850 million – EBIT DKK 21 million – 1.550 employees.
2010: Flügger after the financial crisis
The fiscal year 2009/10 surprised positively. The net turnover only went down by a few percentages, and EBIT was about DKK 100 million with expectations of only half as much. Based upon these facts, the group chose once again to continue the strategy of organic growth through expansion of the network of shops in Scandinavia as well as in Poland and the Czech Republic. However, substantial increases in prices for raw materials and distribution have resulted in the expectations to the bottom line – i.e. EBIT – being far from fulfilled, despite a very positive development in sales the recent years. This means that Flügger is back in the situation from around the turn of the millennium, where profitability inevitably must be highly prioritized.
2010/11: Sales DKK 1.591 million – EBIT DKK 85 million – 1.540 employees.
2011/12: Sales DKK 1.760 million – EBIT DKK 40 million – 1.650 employees.
2012/13: Sales DKK 1.874 million – EBIT DKK 68 million – 1.625 employees.
2013/14: Sales DKK 1.924 million – EBIT DKK 88 million – 1.572 employees.
2007: Flügger aims internationally
A strategy was laid in 2007 towards 2010, which included a continuation of the expansion of the number of Flügger farver shops in Scandinavia and even more focus on Poland and China. These markets are to sustain the growth in the future, once the group has reached its goals in Scandinavia. As the following shows, the expectations were met on a short term basis, i.e. right up until the financial crisis struck the group at the turn of the year 2008/09.
2007/08: Sales DKK 1.555 million – EBIT DKK 140 million – 1.390 employees.
2008/09: Sales DKK 1.504 million – EBIT DKK 56 million – 1.467 employees.
2009/10: Sales DKK 1.447 million – EBIT DKK 106 million – 1.444 employees.
2004: Flügger aims at organic growth
After a few years with satisfying earnings but a stagnant net turnover, it was decided to prioritize the top line again. The company chose to acquire the leading paint producer in Iceland and prioritized the expansion of the Flügger farver chain, primarily in Norway and Sweden. The strategy for the next three years till 2007 met the expectations.
2004/05: Sales DKK 1.199 million – EBIT DKK 123 million – 1.137 employees.
2005/06: Sales DKK 1.342 million – EBIT DKK 136 million – 1.206 employees.
2006/07: Sales DKK 1.449 million – EBIT DKK 133 million – 1.302 employees.
1999: Flügger prioritizes the bottom line
During the fiscal year 1998/99, the group was less prosperous. The top line – i.e. the net turnover – went down by approximately 2% to DKK 1.012 million, and the bottom line – i.e. operating profit EBIT – went down as well to DKK 30 million. A new strategy was worked out as a consequence of this development: The group's profitability was to be re-established, which we succeeded in doing as the development for the following years shows:
1999/00: Sales DKK 1.058 million – EBIT DKK 49 million – 1,048 employees.
2001/02: Sales DKK 1.056 million – EBIT DKK 91 million – 1,015 employees.
2003/04: Sales DKK 1.111 million – EBIT DKK 122 million – 1,007 employees.
1994: Flügger aims at Scandinavia
Over New Year 1993/94, the company purchased Sweden's third-largest paint factory, HP Färg & Kemi AB, which later had a change of name to Flügger AB. The Norwegian subsidiary of HP merged with Flügger Norge, and the Danish subsidiary PP Mester Maling continued as an independent company within the group. The following years, the Flügger group aimed at becoming one of the dominant suppliers of decorative paint in Scandinavia. In Norway a small chain of paint shops was acquired, and in Denmark a wholesaler from Northern Jutland as well as AdeKema in Sweden, producer of cleaning agents, were acquired. The group chose to enlarge the Swedish main warehouse close to Gothenburg with room for 11.500 pallets.
1997/98: Turnover DKK 1.035 million - 1.056 employees.
1983: Flügger is quoted on the stock exchange
Due to a severe fire in the company's factory in Kolding 1978, the planned IPO of Flügger had to be postponed till 1983. The issue price per share was DKK 875, equivalent to DKK 52 per share today when adjusted for issue of bonus shares and change of unit size since the IPO. With the proceeds from the IPO – DKK 42 million – Flügger diversified. Denmark's largest wallpaper factory, Fiona in Faaborg, was acquired, and Denmark's only producer of sandpaper, Dragon in Maribo, became a part of the group. In Sweden Stiwex brush and paint tool producer as well as Fobo brush factory are acquired.
1984/85: Turnover DKK 289 million - 415 employees.
1990/91: Turnover DKK 515 million - 556 employees.
1975: Flügger starts selling to private customers
Until 1975, Flügger was known as a supplier to professional painters, and sales to private consumers was not a part of the business. But in 1974, the year after the first financial crisis, the paint trade and Flügger experienced a dramatic decline, which resulted in a co-operation around the establishment of the chain of shops called "Flügger farver".
1975/76: Turnover DKK 97 million - 206 employees.
1970: Flügger builds new factory
During the sixties, the site in Rødovre was fully developed, creating the need for a new factory in Kolding in 1970. Flügger decided that the new production plant solely was planned to produce water-based and environment-friendly decorative paint. 1970 Flügger was converted into a limited company with the next generation, the son Ulf Schnack, as managing director. The share capital equivalent to the equity capital amounted to DKK 1 million.
1970: Turnover DKK 33 million - 175 employees.
1958: Flügger starts production
1 April 1958, the company moved from the centre of Copenhagen to a new factory and administration building in Rødovre. It was Ulf Schnack, who as a newly qualified chemical engineer at the age of 22 was responsible for the development and production of decorative paint in master painter quality.
1958: Turnover DKK 3.4 million - 31 employees.
1948: Flügger becomes Danish owned
After the Second World War, the Danish state confiscated all German property in Denmark as indemnity. After a couple of years, the state chose to sell the company through a commissary sale. It was Michael Schnack, the Danish director of the company, who acquired the company with the support of four big painting companies.
1948: Turnover DKK 2.4 million - 20 employees.
1890: Flügger starts in Denmark
1 November 1890, the German parent company established a branch in Denmark. This took place after the parent company in Hamburg started trading with master painters in Denmark, whom they wished to service locally.
1783: Flügger is established in Hamburg, Germany
In 1783, Daniel Flügger established the company. The son, Joachim Daniel Flügger, took over the company in 1816 and named it J.D. Flügger, Farben & Lackfabrik, Hamburg. The company belonged to the family Flügger through four generations up until a voluntary winding-up in 1973.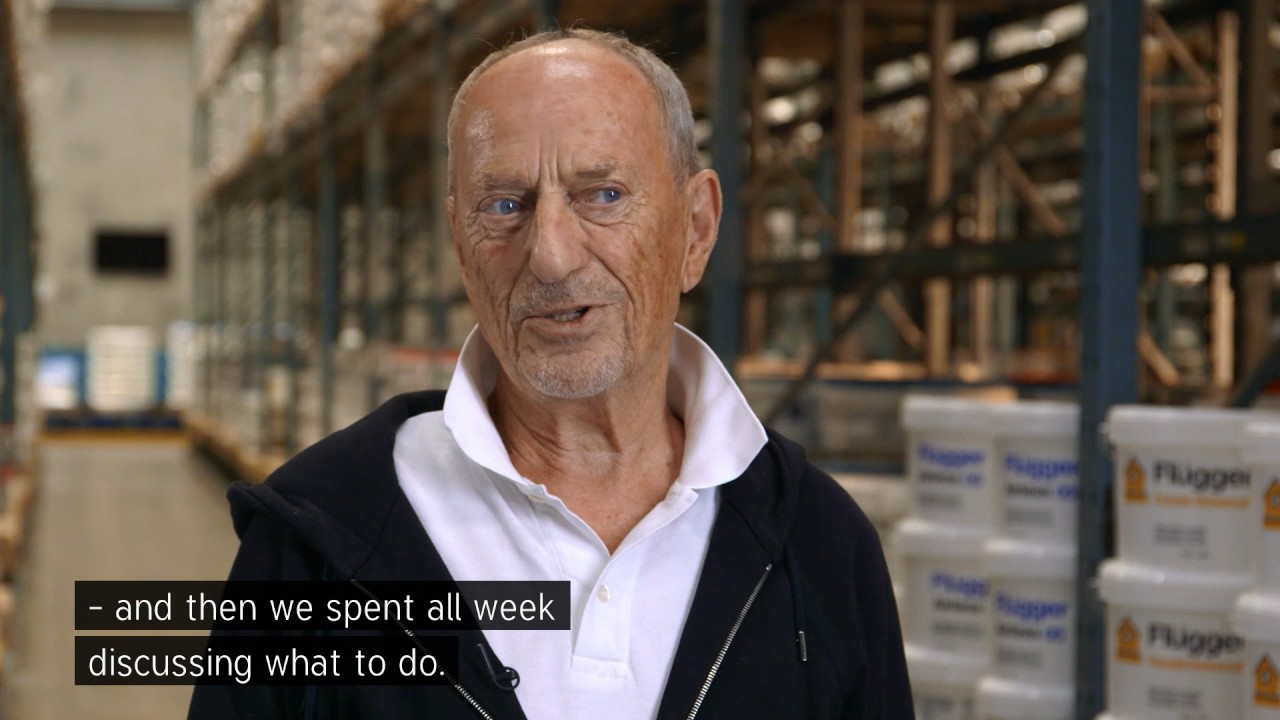 Relevant links
1
2